Hospital Procedure
OPD Schedule
We provide a large range of consultative, diagnostic and surgical services to people whose health complaints do not warrant hospitalization through our Out-Patient Dept. (OPD) Services.

Consultations
Consultants from various specialties have an OPD clinic schedule and patients can consult them after taking prior appointment from the OPD Desk.

Hospital Timing
Hospital Emergency is Functioning 24hrs on all days.
Routine Hours : 9.00 a.m to 10.00 p.m.
Emergency Hours : 10.00 p.m to 9.00 a.m

Visitor Timing
Evening 4.00 p.m. - 7.00 p.m. (Mon - Sat)
Sundays 10 - 11.30 a.m. & 4 - 7 p.m.

Day Care
The day care surgery will be performed in Minor OT. This surgery will be performed on all disciplines on one day package

Admission Procedure
Come relax to the hospital. The atmosphere is homely and peaceful.
We have a beautiful hospital with up-to-date diagnostic equipment within our clinical departments, an emergency room, Neonatal Intensive Care Units, a state of art Operation theatre and broad spectrum of diagnostic modalities.
We are very proud to have qualified, medical council registered, caring staffs who works hard to provide our patients with high quality medical care, together with warmth, a caring attitude and always with a smile.
At the reception, complete the admission formality including filling the admission form and the deposit formality. We will take care to make your stay at our hospital as comfortable as possible.
All our hospital rooms are designed to provide maximum comfort and safety to our patients.
Your right to privacy, individuality, and cultural identity as it relates to social, religious, and psychological well being will be given every consideration during your hospital stay.
You will need only essentials such as toiletries and sleeping apparel in your room. Only medications prescribed by your physician during hospital stay may be taken.
Your physician will give the staff orders for your tests, diet, and other instructions that will be followed by our staff nurses. The hospital is not responsible for money or personal belongings, so please leave credit cards, jewelry, mobile phones, phone chargers, laptops and other valuables at home.

Ways of Admission
Through the admission counter, if you are referred to our hospital by your doctor, and if urgent medical attention is not required.
Through the Casualty Medical Officer in the Casualty Department, if you are either -

In urgent need of medical attention, or
You come without being referred and therefore need to be admitted under the appropriate consultant doctor.

Submit details of your case i.e. either -

Your doctor's reference note [which will contain instructions] or
The Casualty Medical Officer's note.

Select the class in which you would like to be admitted. [ Please remember that if you desire a change, immediate transfer to another class may not be possible.]
Fill in the following documents -

Admission Form - This is to ensure you receive appropriate medical treatment while in our care.
Consent Form - relating to your treatment, this form is important; it seeks your acceptance.

Safety
The health and safety of patients is our primary concern.
Your bed can be raised and lowered; your nurse will demonstrate these functions. At bedtime, the bed is placed in the low position with the side rails raised. The rails will not obstruct your getting in and out of bed; they will actually provide a handrail for you to steady yourself. If you feel unsteady, or have taken sedatives your nurse will demonstrate the nurse call system to you. Please use the nurse call system to call your nurse for assistance to get out of bed.

The ALAP Hospital is a non-smoking hospital and maintains a smoke-free environment throughout the facility for our patients, staff, and visitors. We thank you for your cooperation with this policy.

Discharge Procedure
Discharge time is 11.00 a.m.
[Your discharge formalities should be completed before 10.00 a.m. on the day of your discharge, so that you may leave by 11 a.m.]

The following is the procedure for discharge -
Your Consultant doctor will make an entry of discharge in your folder.
The Resident doctor will then fill in your discharge card with details and the further course of treatment. If you need to come back for a follow-up assessment, it will be indicated. Drug prescriptions and other instructions will be given.
Your folder containing the relevant papers and vouchers will be sent to the admission counter for information and then to the Billing Department.
The final bill is readied after the deposit is taken into account. When you receive the final bill, payment has to be made at the bank counter in the podium.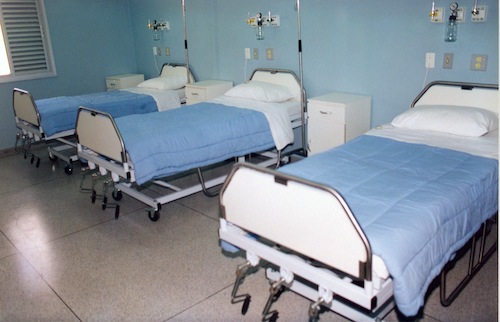 "
You can help us Support a cause...
Do you ever wonder where the money comes from to help the poor below poverty line patients?